T
here is a second story that former Lugari MP Cyrus Jirongo likes telling, which is that as the 2002 general election was approaching, he visited the home of the then Eldoret North MP William Ruto in the company of former Malava MP the late Soita Shitanda. Once at Ruto's, Jirongo says he found a cross section of politicians, including Raila Odinga, who was the then Secretary General of New KANU. The meeting was plotting the next political steps post-Moi.
President Daniel arap Moi, who was finalizing his second and final five year term since the reintroduction of multipartism in 1992 and was winding up his 24 year rule, had kept everyone guessing over who he would endorse for the presidency.
There was no one in the meeting from Western Kenya, and Jirongo says he picked up the phone and called Musalia Mudavadi, informing him that a post-Moi Kenya was being discussed and there was no one at the table looking out for Luhya interests. In Jirongo's narration, he and Mudavadi had a little chat, in which Mudavadi wondered whether Moi would leave them in the cold if they stuck it out with him. That is how both Jirongo and Mudavadi lost their seats in 2002. To Jirongo, he did his duty by informing Mudavadi of the goings on at Ruto's, because to him, Mudavadi was Western Kenya's best bet.
''It was a difficult time because everyone had now come to appreciate that Moi wasn't going to be around beyond 2002,'' Mudavadi says, ''and the challenge now was which way, how was he going to handle succession, and would KANU survive or would the opposition unite and take over.''
But as everyone was plotting, on 14 October 2002, Moi pulled the rug from under their feet by endorsing Uhuru Kenyatta as his successor. New KANU splintered, with Raila Odinga leading a walk out into the opposition through his Liberal Democratic Party (LDP). To prevent Mudavadi from joining the walkout, Moi appointed him Vice President on 4 November 2002.
The question on everyone's mind was, would Mudavadi leave or would he stay put in KANU.
''I always tell people that sometimes when you have strong ties with someone, ties similar to what my family had with former President Moi, and also considering the long period of time I served under him,'' Mudavadi says of his rock-and-hard-place scenario in 2002, ''you find that it can be very difficult to walk out on somebody like that, someone who is almost family. And so it wasn't an easy decision for me to make. Nevertheless, I stood my ground and supported his decision, as controversial as it was, and campaigned for Uhuru Kenyatta.''
Does Mudavadi regret not walking out of KANU?
''Sometimes you don't want to go too much into hindsight,'' Mudavadi says, ''because these are decisions you make influenced by the circumstances of the day. I let bygones be bygones.''
It was that decision of choosing not to walk out on Moi like everyone else was doing, and opting to instead support Uhuru Kenyatta, that cost Mudavadi his parliamentary seat. By all indications, Mudavadi had made peace with his choice, right or wrong, and did not begrudge the people of Sabatia for voting him out for the first time since he took over as MP in April 1989 following his father's demise.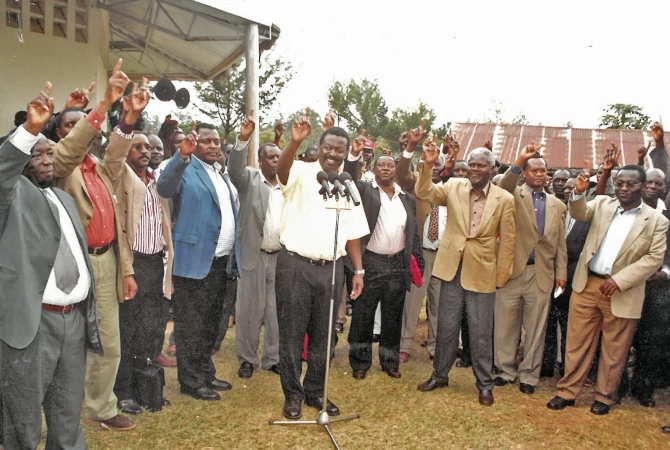 Vice President Musalia Mudavadi Addressing Kanu Supporters In Sabatia December 2002
''Because of the backlash following my decision to stick with Moi and Uhuru, I lost my seat in Sabatia, and had to start redeeming myself,'' Mudavadi says. ''And so when KANU nominated me to Parliament, I declined. I said if the people of Sabatia have given me a sabbatical, then let me respect their wishes and not take up a position in Parliament. Because to me, I had to atone for my sins. I had annoyed them. My conscience couldn't allow me to now take leadership through the back door as a nominated MP when the people had said no to me at the ballot.''
After serving as Minister of Finance from 1992 to 1997, Mudavadi was moved to the Ministry of Agriculture, where he served for two years. He then became Minister for Information, Transport and Communication for a year, after which the ministry was split, leaving him as Minister for Information and Communication for another two years.
But after Uhuru Kenyatta lost to Mwai Kibaki and Mudavadi too lost his seat to the unstoppable opposition wave, the man had a lot of free time in his hand. I ask Mudavadi what he got up to between 2002 and the next general election in 2007.
''I tried to make the best out of it,'' Mudavadi says. ''I grew my businesses, concentrated more on family and travelled a lot between Nairobi and the village. I also learnt how to play golf.'' You deserted rugby? I ask Mudavadi in jest. ''You can't think of rugby at this point,'' Mudavadi says with a laugh. ''There are a lot of young men who are very well built and extremely fit, and remember it is a confrontational game that requires body contact. You wouldn't withstand a body check from a youngman today.''
But it wasn't long before Mudavadi found his way back into politics. In September 2003, Moody Awori, a longtime KANU ally of Mudavadi's was appointed Mwai Kibaki's Vice President following the passing on of Michael Kijana Wamalwa. It was during a homecoming party at Awori's Busia home that Mudavadi made the decision to leave KANU and follow his erstwhile comrades. Moi was already out of the political picture, and Mudavadi was now at ease to make his own choices.
''A lot of the people with whom I had been with in KANU had used the LDP as the window to join the opposition,'' Mudavadi says, ''and so it was only natural that I took the same route.''
In a matter of two years, Mudavadi would find himself back in campaign mode as he joined those opposing the draft constitution during the 2005 referendum. Out of this, the Orange Democratic Movement (ODM) party was formed, following the Orange Team's win against the Kibaki-backed draft constitution. Mudavadi, alongside Raila Odinga, William Ruto, Najib Balala and Joe Nyaga emerged as the new party's presidential aspirants and constituted its Pentagon.
''We had been in Cabinet together,'' Mudavadi says of his relationship with Raila Odinga, ''and interacted during negotiations for the KANU-NDP merger where I was part of the committee.''
To Mudavadi, these weren't new people, only new working arrangements, much as they had been on opposite sides of the political spectrum for the longest time. While presenting his budget speech as Minister of Finance in 1996, some of his new party-mates like James Orengo had attempted to grab the parliamentary mace and render the sitting redundant, while others had made a go at Mudavadi's speech.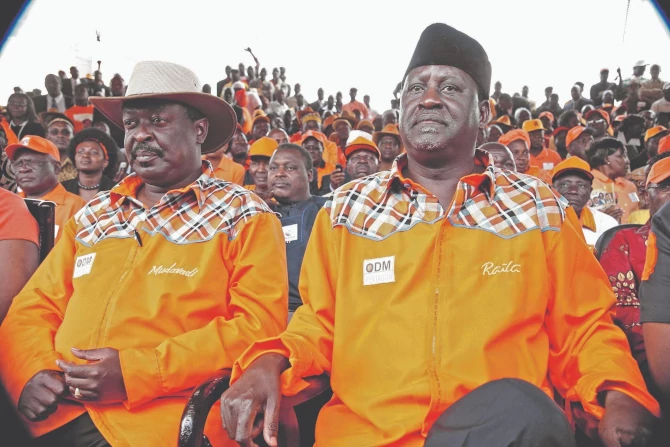 Musalia Mudavadi and Raila Odinga
''That day I learnt that it is imperative to always carry a backup speech, in case someone takes off with the one you are reading,'' Mudavadi says. All of that was now history, and the KANU and lifelong opposition boys were now together.
''I think my refusing the 2002 nomination to Parliament and my consequent political choices earned me a lot of respect from the electorate,'' Mudavadi says of his 2007 political comeback as MP for Sabatia, ''because they came to vote literally to the last man in my support.''
But as Mudavadi was bouncing back, Kenya started burning following the disputed 2007 presidential election. Mudavadi was seconded by the Raila Odinga side as part of the negotiation team at the Nairobi Serena, mediated by Koffi Annan assisted by Benjamin Mkapa and Graca Machel.
''It was a very sad and dark moment, and I hope we never get back there,'' Mudavadi says. ''I have been a little worried when I see signs of political intolerance in our politics today, people beginning to disturb the peace, and I hope these incidents can be nipped in the bud.''
Mudavadi recalls hospital and morgue visits, where they witnessed bodies of people who had either been shot or killed using crude weapons, including children, being offloaded from trucks. Those are 42 days - the duration of the Serena Mediation Talks - which Mudavadi says he won't forget, his only wish being that Kenyans too don't forget the painful lessons from that dark chapter.
''The grand coalition government started off well, but sometimes old habits die hard,'' Mudavadi says regarding the post mediation Kibaki-Raila government, in which he was Deputy Prime Minister, and in which the dishonesty of the post-2003 Kibaki-Raila partnership were witnessed, ''because within no time, vested interests and partisan positions started rearing their heads, so after some time the functioning of the setup wasn't as smooth as it should have been.''
As an example, Mudavadi cites that certain government functions were supposed to be handled by subcommittees chaired by Raila Odinga as Prime Minister, or one of his two deputies in Raila's absence. But according to Mudavadi, the subcommittee model collapsed sooner than later, and ministers retreated back to their masters.
''As much as there was peace and stability in the country,'' Mudavadi says, ''things within government weren't rosey at all.''
I ask Mudavadi what kind of leader Kibaki was.
''He listened a lot,'' Mudavadi says, ''and he would allow the free flow of debate in Cabinet. I had also been in Cabinet with him during Moi's time, and found him very brilliant and focused as a person. He was pretty knowledgeable on many matters.''
Aside from serving as one of two Deputy Prime Ministers, Mudavadi doubled as Minister for Local Government, a ministry which placed him at the center of midwifing devolution as enshrined in the August 2010 Constitution. This meant drafting bills and pushing them through Parliament, and working closely with the Transitional Authority to ensure county governments found soft landing after the 2013 general election. As part of these preparations, the former local authorities and municipalities would yield their staff and infrastructure to the incoming governors.
But as Mudavadi was being devolution's air controller, he was also making moves. Functionaries within the Mwai Kibaki government - and supposedly Kibaki himself - had a soft spot for Mudavadi, considering Uhuru Kenyatta, Kibaki's godson and a presidential hopeful was facing crimes against humanity charges at the International Criminal Court.
Mudavadi doesn't speak about it, but the said pro-Mudavadi officials started laying ground for Mudavadi's presidential bid. As this was unfolding, Mudavadi officially parted ways with Raila Odinga, his 2007 collaborator. And as if it was Mudavadi O'clock, Uhuru Kenyatta too relinquished his presidential bid for a hot minute in favor of Mudavadi, and made the concession public, only for him to turn around and say it had all been abracadabra, the work of some dark forces. It was spectacularly absurd.
''For me, all these things point to the fact that people know I am dependable, that I keep my word once I make a commitment,'' Mudavadi says when I ask him why the various political players found him attractive as a potential president in 2013.
But in the end, Mudavadi faced the electorate solo.
'''We all take risks,'' Mudavadi says. ''I made my decision, I ran, I didn't win, but through that act I made it clear to Kenyans that I am available to serve as their President.''
I ask Mudavadi what his biggest takeaway from that presidential run was, and he gives me two. ''To run for president in Kenya is very expensive,'' Mudavadi says, ''but more importantly, we need to find time and build consensus some time in future, and do a proper audit of the electoral system. The cost of supervising elections is expensive, and the cost of campaigns prohibitive.''
Throughout my conversation with Mudavadi, one thing is clear. He doesn't want to come across as if his political future is dependent on his past alliances, and he doesn't really want to revisit them in any meaningful way. There is also a sense that much as he may not hold grudges out of how he was (mis)treated by some of his erstwhile collaborators, he just feels it's good to move on. I take cue and let bygones be bygones, as Mudavadi would say.
Whatever else stands out is the fact that much as Mudavadi wants to serve, he doesn't want to do so at all costs. It is this ''si lazima'' approach to politics that saw him decline the 2003 nomination to Parliament, and more recently his cold treatment of overtures for him to join President Uhuru Kenyatta's government.
''If I didn't campaign for a political party,'' Mudavadi says, ''and that party wins power and goes ahead to form government, it would be completely disingenuous of me to then turn around and say I want to be part of that government, because I didn't believe in it in the first place. It is like being part of a government then starting to criticize it without tendering in your resignation.''
For certain, few Kenyan politicians would pass on an opportunity to be in government, which makes Mudavadi a sort of odd ball in town. Is this also why his critics think he is too soft for Kenyan politics? ''It is a question of style,'' Mudavadi says. ''How would you describe Moi in his early days? Or Kibaki? They certainly weren't rubble rousers. Even when I was at the Treasury I wasn't shouting from the rooftops but I was rattling a lot of people. I prefer to move steadily.''
And yet in 2017 Kenyans witnessed unprecedented zeal and gusto from Mudavadi as he pushed the National Super Alliance (NASA) agenda. What had changed?
''Sometimes when you believe in something the best of you comes out,'' Mudavadi says, ''plus the fact that I was the originator of the idea of a national super alliance.''
But unfortunately for Mudavadi and his collaborators, NASA didn't take power and now they are all back to the electoral drawing board. Mudavadi concedes that the biggest challenge at hand is coalition building, since the Kenyan model of coalitions is purely pegged on the idea of winning elections and not necessarily on what coalitions and their constituent parties stand for long term.
''I hope in the long run our politics grows so that we have parties coming together because of what they believe in and not purely because of who needs to be the candidate,'' Mudavadi says, while not excusing his One Kenya Alliance (OKA). And why would he be best suited to lead Kenya, and not any of his OKA partners?
''If there is a politician who has been cautioning about our spiralling public debt, then it's me,'' Mudavadi says, ''and I have been at it since 2015. Today, 70% of our revenue goes to servicing debt, leaving little for development. These challenges can only be addressed by a serious leadership.''
And here Mudavadi draws from the past.
''I have been tested in this kind of territory before,'' Mudavadi says. ''We need to take a break from politicking and focus on fixing Kenya. At the end of the day, when an economy is thriving, you are most likely to find a peaceful nation. That is why I spend little time talking about individuals and focusing on issues.''
For Mudavadi, his pitch is simple.
We are back to 1993, and he's the guy who fixed the economy.
Will Kenyans let him do it one more time, as President?