"Everywhere I went, there were two things: A mosque and a football field."
These have been Khalid Jumaan's constants regardless of where he was in the world. Having hitched his wagon to the star after finishing primary school and forgoing high school since his mother couldn't afford to pay for his education, Khalid knew he had only one way out of desolation: football.
Born and bred in Mombasa, Khalid's path to professional football was no longer a gamble when during one of his kick-abouts with his mates, he caught the eye of a scout from the Qatar based Aspire Academy. After some convincing by the "mzungu" – as Khalid called him – a nonchalant Khalid agreed to join in on the Aspire trials. Khalid was so impressive during the Mombasa regional trials that he was chosen to represent the county in a nationwide bout in Nairobi. After an intensive test at Nyayo Stadium, Khalid was selected among two other lads to travel to Qatar in 2009.
Once in Qatar, the three Kenyans joined a cohort of African players. Unfortunately, Khalid's Kenyan companions were dropped off after failing to live up to the demands of the pre-signing fitness test. Khalid went on to join Aspire, becoming part of a new-comers cohort which went on to form Aspire's first eleven in 2009. Such was the talent in that squad that stakeholders decided to breed them as professional footballers and not student-athletes as was originally envisioned.
"We were so good, we used to beat the junior Real Madrid and Barcelona teams,'' Khalid said during our two hour phone conversation. ''We even faced Neymar's team from Brazil and beat them."
An only son in a family of three, the self-proclaimed Mama's Boy narrates how the European clubs they competed against during his Qatar days wanted to buy his entire class of 2011 due to its exceptionalism. To hold on to them when they turned 18, Aspire bought Kas Eupen FC, a second division club in Belgium, so that once Khalid's yearmates graduated from Aspire, they would migrate en mass into competitive soccer through yet another Aspire entity. Letting go of such a talented group, whether as individuals or as a collective wasn't in Aspire's cards.
When it was time for the next phase in 2012, Khalid hence glided into Kas Eupen FC aged 18, just as Aspire had planned. For a first professional contract, Khalid had everything to smile about considering he was earning more than half a million Kenya shillings per month.
It was while Khalid was flying high in Belgium in anticipation of a fulfilling run as a pro-footballer that he suffered a groin injury. The injury was so severe that Khalid hardly made any appearances for the club. Because of this, chances of renewing his contract at Kas Eupen FC were as good as none.
In a bid to salvage his playing career, Khalid made a quick decision to return to Kenya. Luckily, he got signed by AFC Leopards in 2012. According to Khalid, this is where his career took a turn for the worst considering he didn't get enough playing time at the club.
From playing in Europe and for Kenyan clubs such as AFC Leopards, Khalid's fortunes further dwindled when he was relegated to playing for clubs such as Nakumatt FC in 2016 and Nairobi City Stars in 2017, which play in the second tier of the Kenyan league. Much as Khalid's story had stopped seeming like it came from the stuff of dreams and started reading like a badly scripted tragedy, his two constants – a Mosque and a football pitch – remained.
In 2018, Khalid moved teams from Nairobi City Stars to Kenya Commercial Bank (KCB) Sports Club, still in tier two. Then during the last game of the 2018 Super League season – KCB was playing Ushuru FC – football was almost taken away from Khalid.
"The challenge came from behind,'' Khalid said, ''and my cleat got stuck in the turf at Camp Toyoyo. That's how I injured my right knee."
After sitting out for six months, Khalid resumed training at KCB. On his first day back at practice, Khalid's knee gave away once again.
"I was just chasing the ball, with no one challenging me,'' Khalid told me. ''There was a loud snap, and it immediately swelled. I just knew I could not go back to playing."
With one month left in his contract, an injured Khalid knew he was in trouble. Despite multiple rehabilitation sessions with KCB's physiotherapist, time was running out. Out of his own volition, Khalid went to have his knee checked at the Aga Khan Hospital in Nairobi.
Khalid found out he had torn key ligaments in his right knee such as the anterior cruciate ligament (ACL) and meniscus, which are crucial for the agility needed in sports. A doctor at Aga Khan advised him to go under the knife if he wanted to continue playing football.
A distraught Khalid informed KCB about the diagnosis, and to his relief, they agreed to pick up the tab for the surgery.
"Surgery is not hard. The hassle is in recovery,'' Khalid recounted. ''That is what the doctor told me."
True to the doctor's words, Khalid was left alone to find his way out of the crisis. Out of contract with KCB and with absolutely no chance of signing at least a semi-professional contract because he was injured. Khalid had to become his own physiotherapist, doctor and even therapist.
"That period in my life was the hardest. I even got into depression and gained up to almost 20kgs. Can you imagine?" Khalid asked.
Right off from surgery, Khalid recounted how walking in crutches was one of the hardest things he has ever done in life. It took Khalid eight months to heal, but such was the excruciating mental torture that he had doubts of ever returning to football. However, the ghost of Khalid's potential kept him awake, and started training in the parking lot at the South B apartments.
A typical millennial, Khalid uploaded his lone workouts on his Instagram page. This, as Khalid narrates, is one thing that flipped the story for him. Mike Shamia, a sports conditioning coach with the Kenya 7s rugby team, who had also worked with Khalid at AFC Leopards, reached out to him and offered to train him pro bono.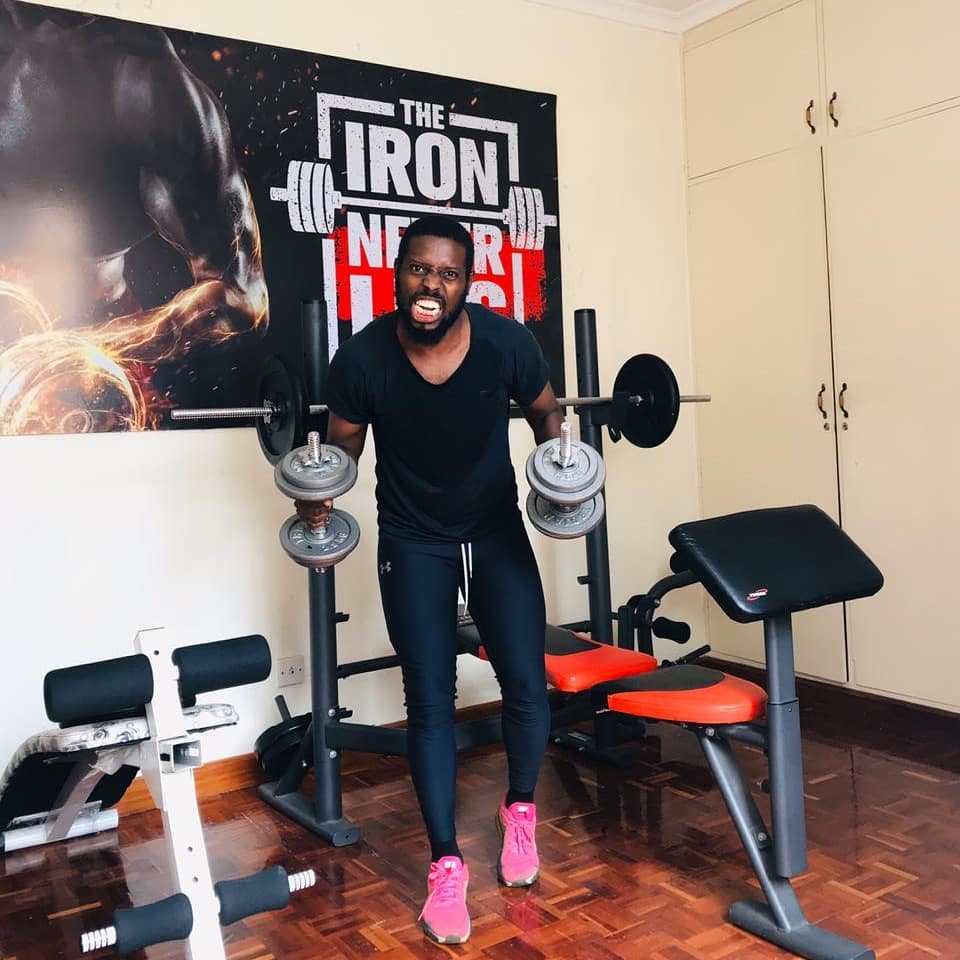 Having been out of employment for almost a year with no income source and barely making ends meet with his savings, Khalid hardly had the means to meet Shamia. Still, the boy from Makupa did not turn down that offer. For months, he met Shamia at 6am in Madaraka for work out sessions, not saying a word about how he trekked from South B to meet him.
For someone who admits that his football journey is not the conventional struggle because of the achievements in his teenage years, Khalid refused to sit pretty. Gaining momentum and strength, Khalid yearned for another chance at football.
"I just wanted to play. I did not care which team it was. I was just raring to go," Khalid said.
Ordinarily, football clubs in Kenya hold trials to give talented players a shot at playing for them. Khalid, who had sailed through to being a finalist in the Aspire Dreams Academy trials in his teenage years, revealed how local clubs' tryouts turned out to be a difficult process.
"I didn't even get in. The coach would see me, say hi to me, and a list would be read out loud. My name was never mentioned, which meant I could not participate in the trials," Khalid said.
Going back home, prospects of starting an 8-5 job felt bland to Khalid. What's more, Khalid watched players he once played alongside play in the national team. With his final card, Khalid sent a message to Coach Salim Ali of Mathare United, asking to train with them. A week after, Coach Ali responded with an offer for Khalid to train with the premier league club, where he soon started playing in friendly matches despite not having signed a professional contract.
"I made sure to give my all,'' Khalid said. ''There was no room for complacency."
Soon enough, Khalid's toil started paying dividends when Mathare United offered him a six-month contract in January 2021. Standing at 5'8, Khalid reveals he has never missed any practice session at Mathare United since.
"I lost almost three years of my career because of the injury," Khalid told me. "I know how it feels to not be able to play, and I will never take this chance for granted."
Making significant appearances in the premier league, often, as a substitute, Khalid revealed how he sent a message to coach Shamia, expressing gratitude for instigating his comeback. Shamia's message to Khalid read: "This is the road to greatness."
Different players peak at different times, but most are considered in their prime in their mid-twenties. At 26, it feels like Khalid is taking off when his agemates are in the cruise phase. Still, Khalid relishes another bite of the cherry and even has goals of playing for the National team, saying:
"Everyone dreams of playing for the National Team, but I will let my football speak for me."