Naomi wakes up bright and early to take a stroll down the Instagram-worthy white sandy beaches by the hotel. Next, she settles on a yoga mat and meditates to the calming sound of a-little-restless Indian Ocean waves. After a sumptuous Swahili breakfast of mbaazi and mahamri, the lanky model goes sightseeing with her local tour guide, one she's been using repeatedly during her visits. There are various photo-op-ready historical sites to consider, but the guide recommends Gede Ruins, the remains of a Swahili town built in the twelfth century.
Naomi takes a break from sightseeing at some point in midmorning to enjoy the day's catch of fresh prawns. Masimo, the hoarse-voiced Italian chef, caters to Naomi's culinary needs. 
After lunch, sips of madafu suffice in lieu of dessert.
The Malindi sun is scorching, and as if her midmorning lingers on the edges of the Indian Ocean aren't enough, a bikini-clad Naomi dips in the pool at the old-ish but gold-ish Italian villa. From the Italian chef to the Italian villa, there's little wonder why Malindi was christened little Italy. The next stop after the pool is the hammock, where Naomi settles with a copy of Vogue. There may or may not be an evening canoe ride as Naomi chases the sunset.
I imagine this is how a Naomi Campbell vacation looks like whenever she's in Malindi.
A 5'8 dark-skinned wonder with piercing brown eyes, most of those who identify as Gen Z interacted with the phenomena that is Naomi Campbell not through her infamous runway and cover girl magic, but encountered her as some other celebrity in this era of being famous for being famous. But when Beyoncé sang "Do the Naomi Campbell walk/Naomi Campbell walk/Walk across the room like Naomi Campbell," these young folk took cue and imitated Naomi's graceful strut, which Naomi picked from her mother, the dancer Valerie Morris.
Beyond Beyoncé, Naomi's impressive catalogue of songs in which she's been name-checked features over forty songs, including those by Kanye West and her Nigerian ex-lover Skepta. It is therefore safe to say that different generations appreciate Naomi differently, some through her modelling career while others through urban legend peddled through music.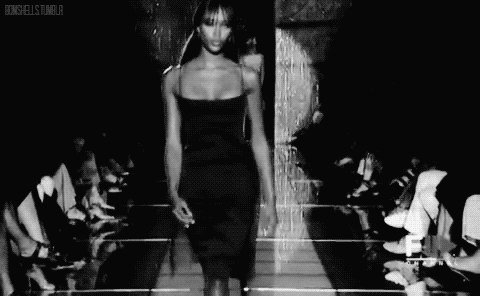 Naomi's runway days were memorable. Doing the Naomi Campbell Walk, she often left her audiences yearning for more whenever she flipped her hair before making an exit off the stage. Coming up at a time when the fashion industry was laden with rampant racism – a state of affairs that still persists, subtly or not – Naomi became a new age disruptor when she appeared on the cover of British Vogue in 1987. This was 21 years after the late Donyale Luna, an American supermodel and actress, made history as the first Black woman to grace the same cover.
To most, appearing on the Vogue cover is a pipe dream. But to Naomi, it was a matter of when, not if. She possesses a certain je ne sais quoi that even the legendary Bob Marley's team discerned and invited her to feature in the "Is This Love" music video.
Naomi's name only grew from there, becoming one of the most sought-after models in the world. She was the IT girl in the '80s and '90s, doing runway modelling for Marc Jacobs, Yves Saint Laurent among other notables. She featured in Playboy, a mark of arrival at the time.
Aside from her good looks and her signature walk on the runway, Naomi's journey to the top was made possible through the support of an army of white folk within the fashion industry. Her fellow models of Caucasian orientation reportedly told Dolce & Gabbana, the Italian luxury fashion house, that if they didn't use Naomi then they too wouldn't model for them.
After being on the cover of British Vogue at 21, Naomi's next Vogue cover was in French Vogue, but this didn't come easy. The magazine towed after Naomi's friend and mentor Yves St. Laurent threatened to withdraw advertising if the magazine continued sidelining Black models.
She is one of the few models of her time to be declared supermodel. I mean, we are talking about a lady who the late Nelson Mandela fondly referred to as his "honorary granddaughter".
Naomi is no stranger to Kenya. She has mainly been seen vacationing in Malindi, otherwise known as Little Italy. While much of her visits to Kenya aren't documented online, Naomi has stated on record as having visited Samburu and Baringo. However, all indications are that Malindi remains her love child. She even did her infamous 2019 nude British Vogue photoshoot shot there.
For the longest time, Malindi has been the go-to "sun-sea-sand" tourist destination for the "who-is-who" in the world such as Naomi. It is quite unlike other tourist towns – it is highly Italian-oriented. The Italian presence is felt beyond language, food and architecture.
Whenever in Malindi, Naomi enjoys her stays at the luxurious Billionaire Resort and Lion in the Sun, both owned by her ex-fiance Flavio Briatore, the Italian businessman and one-time Formula 1 aficionado, who served as a manager of Team Renault.
Through her numerous travels and fashion event appearances, Naomi has been captured arm-in-arm with famous boyfriends, always a spectacle to behold. Naomi's early 30s were spent jet setting with Briatore and his clique from one city to another. Years later, Naomi would be seen sailing on a yacht in Ibiza with Russian billionaire and real estate mogul, Vladislav Doronin. The legendary actor, Robert de Niro, and heavy-hitters in the music scene such as Diddy and Usher spoke her love language too.
The fiery spirit brought to the catwalk was at times equally exhibited off the runway. Naomi was convicted of assault at least four times for acts of violence against employees and associates. And then there was that time when Naomi's hobnobbing with The Who Is Who landed her in the witness stand, where she gave testimony at a war crimes trial for former Liberian President Charles Taylor in 2010. Taylor allegedly gifted Naomi a blood diamond in 1997.
Years on, Naomi continues to attract attention on and off the catwalk – whether by chance or choice. In her most popular video on YouTube channel, Naomi gleefully stated that she loves "being anywhere yet nowhere at the same time". She's forever on the move, and from the look of things, she was more than prepared for the COVID-19 protocols.
Naomi's pre-pandemic airport routine included sanitising every nook and cranny of her first-class seat surroundings. Health inspectors based at airports must have watched her for inspiration when Coronavirus hit.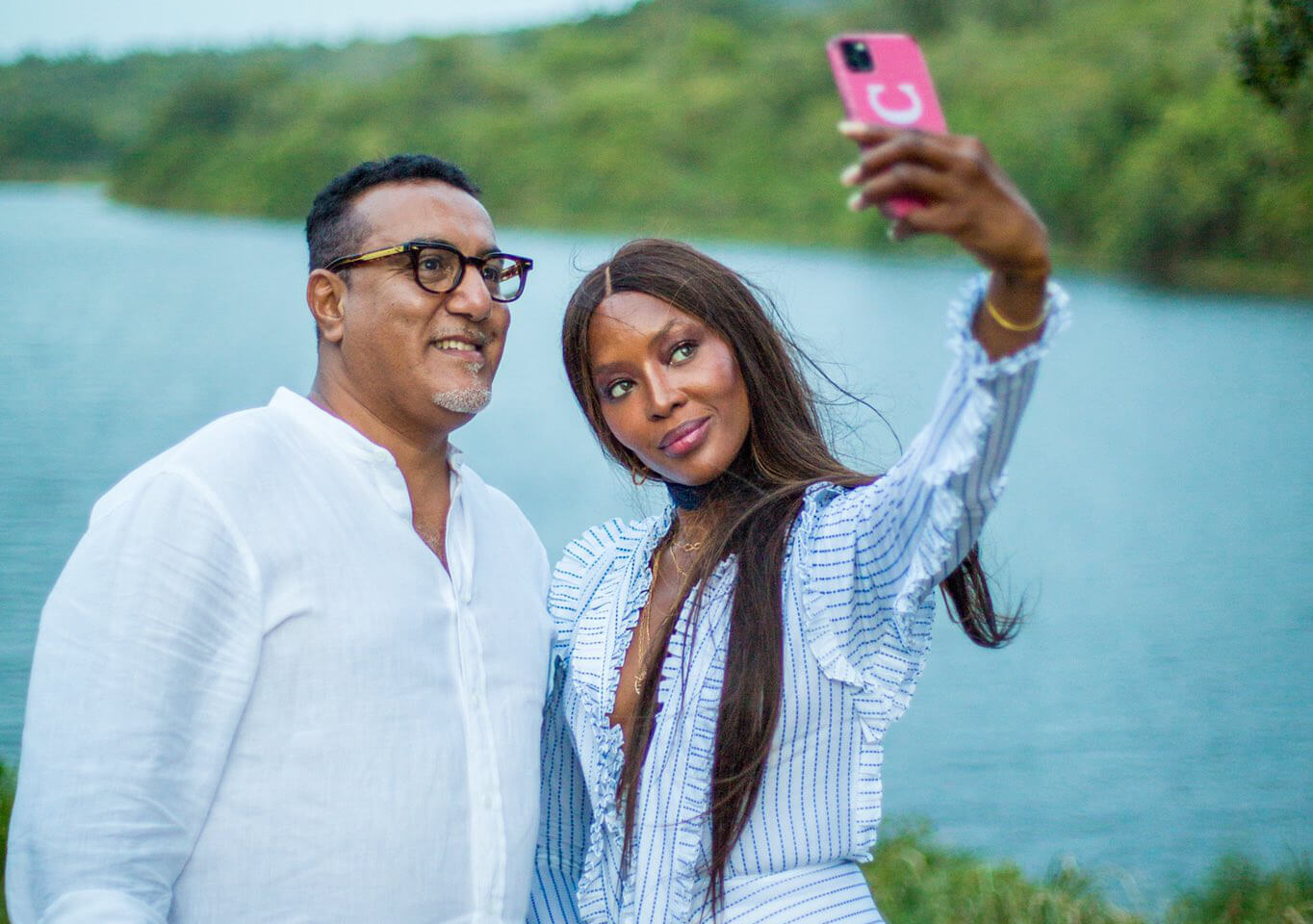 So when Kenya's flamboyant Cabinet Secretary for Tourism Najib Balala announced the appointment of the supermodel as Kenya's tourism ambassador at large on 12 January 2021, Balala must have expected a delightful reaction. But alas!
Kenyans on Twitter were up in arms over the Minister's seemingly uninformed choice, with many wondering why Lupita Nyong'o wasn't considered for the role. The Naomi Campbell Walk seemed to amount to naught. In his defence, Balala alleged that Lupita had been inaccessible for at least five years.
This wasn't the first time the tourism ministry was getting backlash. Back in 2017, the Kenya Tourism Board appointed Ugandan artist Edrisa Musuuza, popularly known as Eddy Kenzo, to promote Kenya to Ugandans under the #TugendeKenya – let's go to Kenya – campaign. Kenyans on Twitter were dissatisfied with the choice of ambassador, claiming that Kenyan artists could equally do a great job.
It goes without saying that world travellers' tastes have changed over time, with the craving for new(er), possibly boundary-pushing Instagram-able experiences taking root. It had therefore happened that celebrities who now have instant ways of sharing their conquests with global audiences in real-time have become a relatable pool of ambassadors.
Next door, Tanzania has procured the services of Drew Binsky, a top US-based travel blogger to help market the country. Kenya's own Sauti Sol has in the recent past been part of promoting South Africa as a tourist spot.
On the more ambitious front, Rwanda, otherwise known as the Switzerland of Africa, signed a three-year sleeve-sponsoring contract worth £30 million (approximately KES 4.6B) with Arsenal Football Club in 2018. That a Global South country would choose to spend advertising dollars on one of the richest sports clubs in the world did not sit well with many. However, the Rwanda Development Board reported that they earned back the £30 million and made a profit worth £6 million, just a year after the 'Visit Rwanda' campaign kicked off.
Najib Balala could be attempting a Kagame-esque move with Naomi's selection. However, the big question lingers, why Naomi and why now. No satisfactory answer(s) are forthcoming.