The craze for tulle skirts was at an extreme high in 2019-2020, and from my observations, 2021 is no exception. This was coupled with the gracefully squashing of the notion that tutu skirts are only a preserve of pretty little girls as women of all shades and sizes have taken up the tutu over the last year.
A quick back story on where this beautiful fashion piece originated. Historically, the tutu was a dress costume worn by ballerinas in classical ballet performances. In modern ballet, there are two types of tutus; the costume tutu which is short, stiff, and projects horizontally and the romantic tutu which is soft, round, and bell-shaped.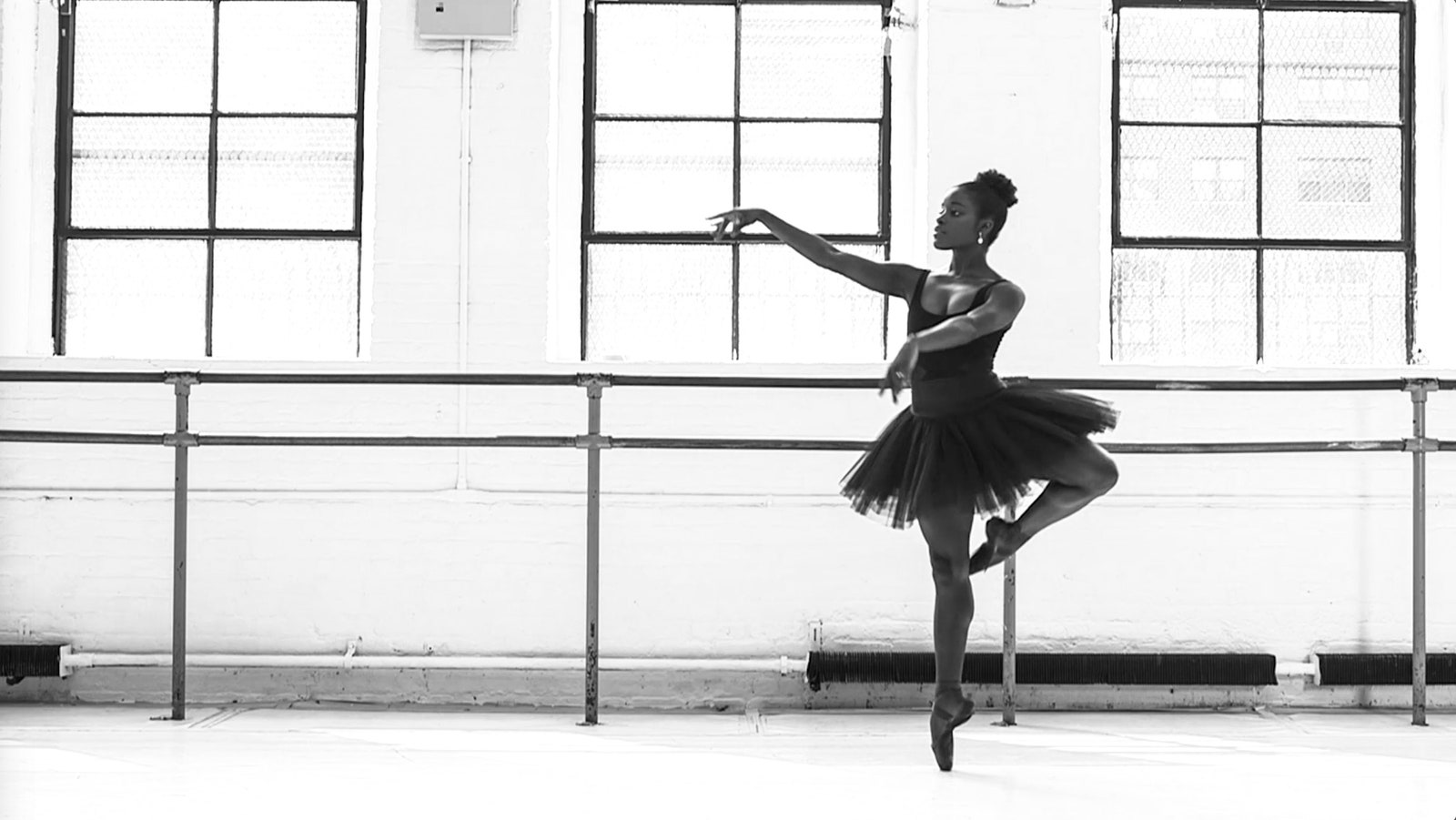 Modern fashion has picked up the romantic tutu style and turned it into a must-have item in most girl's wardrobes; a unique fashion piece that transcends age, body shape, or body size.
And with that said, ladies, if you still look at a tutu skirt and wonder if it is for you, worry no more.
I come armed with style tips and tricks that will have you ready to get your first tutu skirt as soon as you're done reading. Let's dive right in.
The Mini.
The secret behind not looking like a bridal flower girl while wearing a tutu is how you style and accessorize. With the mini tutu skirt, the confidence to have a legs day out is an absolute must. Remember, the tutu skirts comprise layers and layers of tulle fabric, so choosing to go with a mini tutu means you have no problem serving some leg.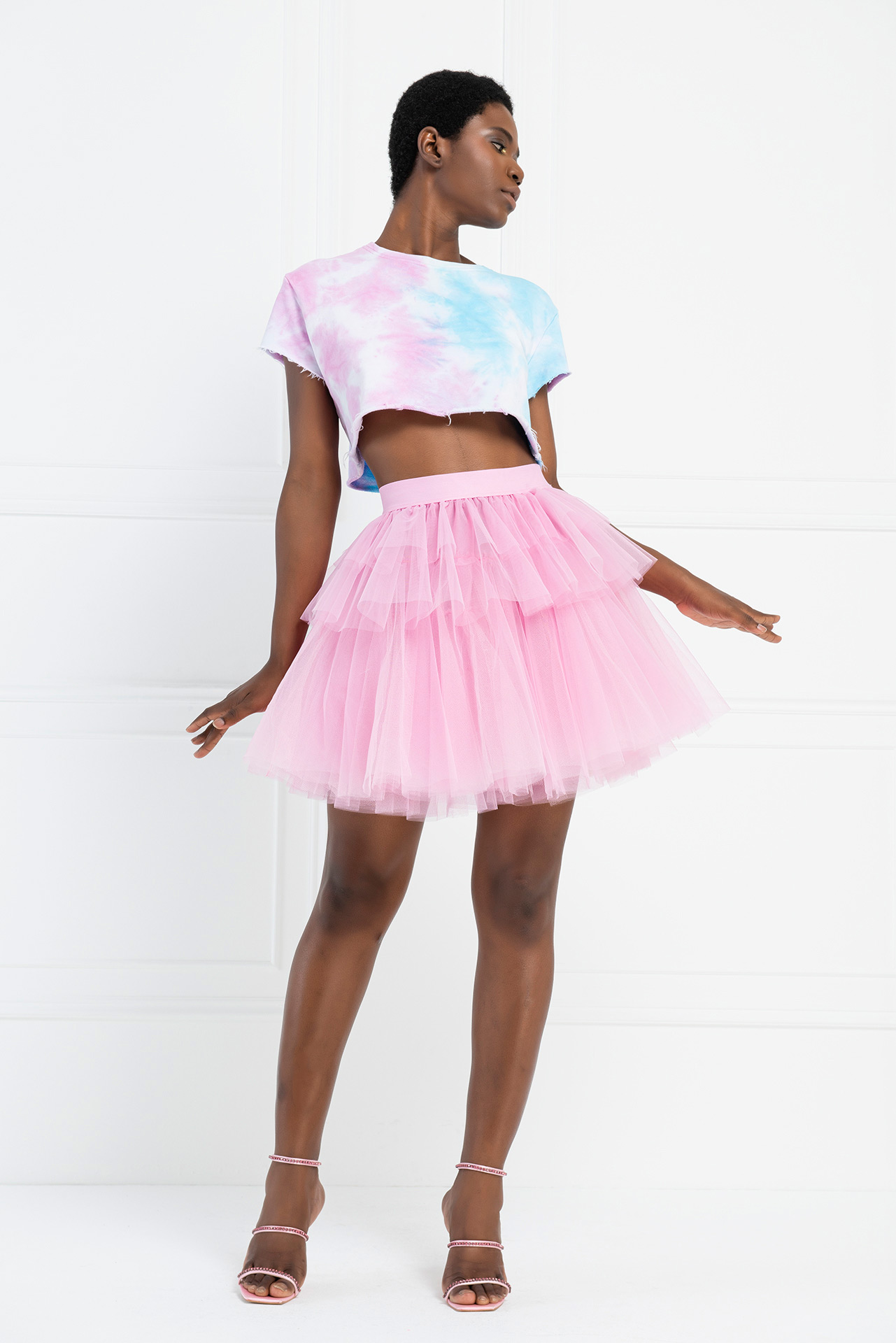 Dressing up:
Pair the skirt with a body-hugging bodysuit or camisole. If your skirt allows, add a belt. This keeps the top in place, preventing it from bunching up around your waist as you go about your day. Throw in a leather jacket and some chunky-heel boots for a dressed-up look. Take your outfit a notch higher by adding a wide brim fedora, and you have yourself an edgy look.
Dressing Down:
When dressing down the tutu, swap the leather jacket for a denim one and the heels with flat-heel shoes like sneakers, Converse or dolly-shoes. You can keep the wide brim hat to add some character to the look.
The Knee-Length.
This is probably the most common tutu skirt because it is relatively safe and quite easy to style. Therefore, I shall highlight some rather unique style options.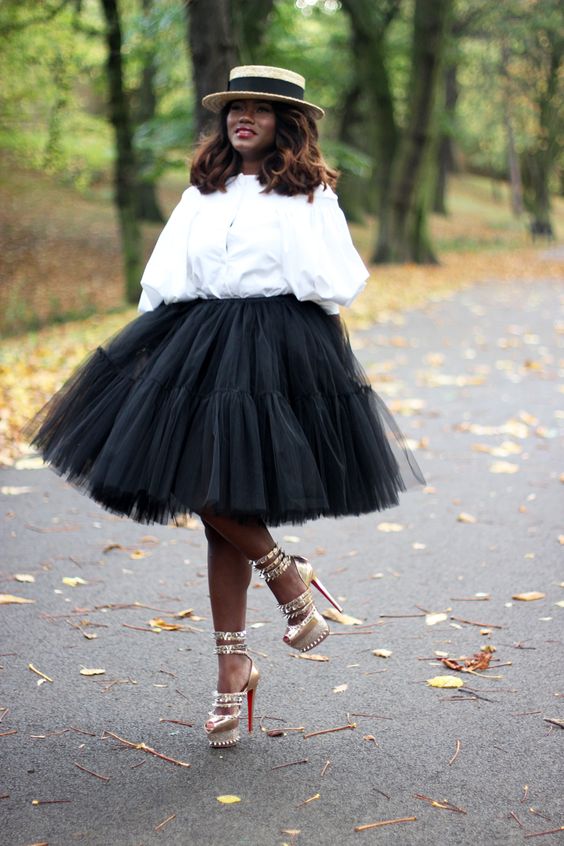 Dressing Up:
A knee-length tutu works magnificently with monochromatic looks. This look will resonate with you if you're like me and prefer a solid color style as the base and still accessorize with color. An all-black base gracefully broken by a burgundy skirt speaks boldness and commands a form of fashion respect as it is not an easy look to pull.
Additionally, to make this look a showstopper, as mentioned earlier, accessories are everything. The choice of heels, bags, and belts should complement the monochrome base.
Points to note:- For a perfect monochrome base, ensure all your base pieces top to bottom are the same shade of color.
This style choice is a phenomenal fashion hack for petite and rectangle-shaped ladies as it creates the illusion of volume and size.
Another option on how to dress up the knee-length tutu is going preppy. This involves pairing the skirt with a lightweight sweater over a white button-up shirt, a pair of cute pale color heels, and a red lip. This look instantly gives a beauty-with-brains vibe.
Dressing Down:
The principle remains the same: accessories are everything.
Pair the skirt with a men's shirt and heels, and you have yourself a dressed-up look. Swap the heels for flats, and you automatically have a dressed-down, easy-going outfit.
It's almost like magic what a single accessory can do to an outfit.
The Midi.
The midi tutu skirt is probably the most challenging to style, in my opinion. One wrong choice, and immediately you look like you have legs 3 inches long.
The first decision to make when considering a midi tutu is checking the length. It should be below your knees but never touch your ankle.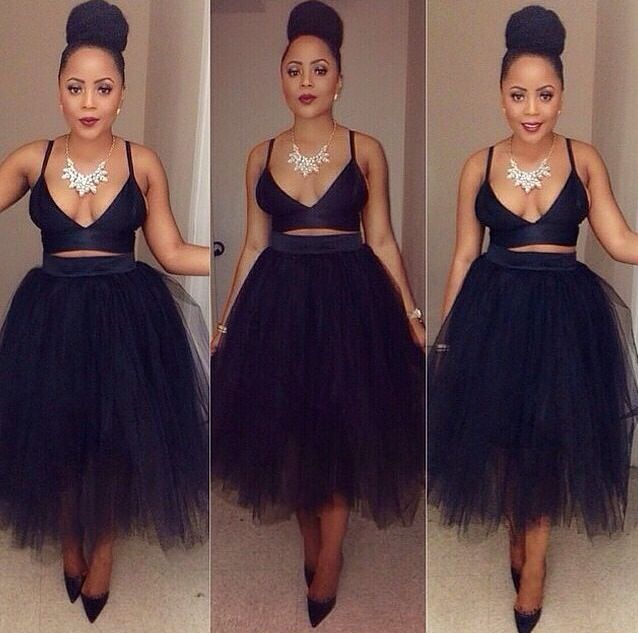 Dressing Up:
Pair the midi tutu skirt with a cute t-shirt, accessorize with multiple layers of pearls, and some gorgeous polka heels. Wearing your hair up gives the illusion of more height and directs the eye of your onlooker to the outfit details.
Dressing Down:
To dress down the midi tutu, simply throw on an accessory that brings out a more casual feel, like a denim jacket, and swap the heels for flats. This switch instantly transforms the entire outfit.
The Maxi.
A maxi tutu skirt is such a show-stopping fashion item. Whether you dress it up or down, prepare to not so politely take the attention of anyone around.
Dressing Up:
One of my favorite things about the maxi tutu is that it has a modified version that includes a slit at the front. Therefore, if you do not mind showing off some thigh-land, then a maxi tutu skirt with a slit is all yours. Pair this with a fitting bodysuit or cropped top showing off just an inch of belly skin, topping it all up with some strappy heels and you've got yourself a looker right there.
If you prefer a more modest look, switch the cropped top with a gorgeous off-shoulder top and go for a fully rounded skirt instead of one with a slit.
Dressed Down:
As mentioned, the maxi tutu is a showstopper on its own. Pair with a leather jacket over a plain cami or bodysuit, and flat shoes (sandals or Converse) immediately begin to channel Kendal Jenner style: a phenomenal blend of subtle and edgy.
Tutu Skirt Pro
Thanks to the current wave of breaking fashion rules, new, unique and exciting tutu skirt designs have made their way to red carpets, galas and street fashion. In that regard, it is my pleasure to present to you the tutu skirt pro max!!!
This is a detachable tutu that effortlessly and elegantly elevates an outfit from good-looking to utterly stunning.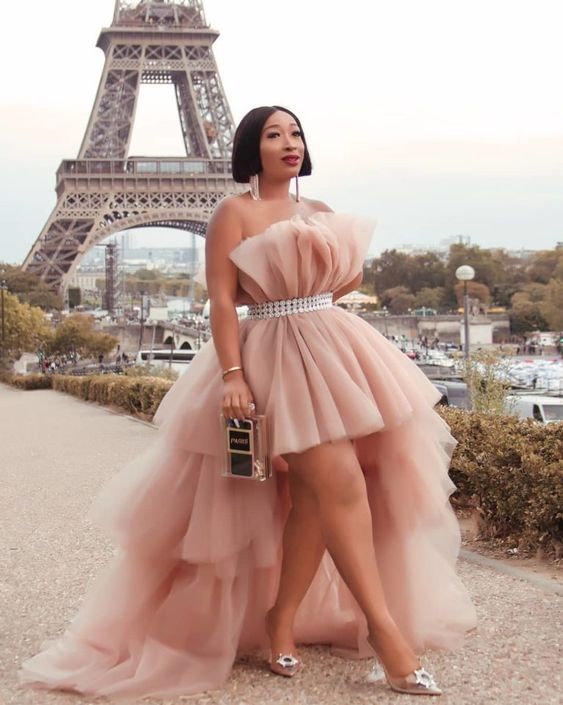 The messy tulle high-low tutu skirts have become an obsession both on and off the red carpet. These over-stuffed, tiered, overly layered tutu skirts/dresses have become celebrity faves, often used to make red carpet statements; Lizzo is one celebrity who has particularly embraced them, and she never disappoints.
Doesn't this give you London Fashion Week vibes?
With the modification and experimentation of the tutu skirt also came an evolution in the production of tulle fabric. Now your tutu can be stripped, ribbed or polka. And in the spirit of development in the back end, styling these new tutus has evolved.
Most bridesmaids' dresses are often one-wear outfits that you spend thousands of coins on then stuff it in your wardrobe immediately after the wedding, never to wear it again. However, bridal squads now pick outfits that could be styled and worn in multiple distinct ways. Tutu-inspired designs are probably some of the boldest bridesmaid outfits I have come across.
Tutu for Plus Size Queens.
Finally, as I mentioned initially, the tutu skirt is one of the few fashion pieces that transcends age, body size, body shape, and height. So for my curvy queens, here are a few ideas on how to look breathtaking in a tutu skirt.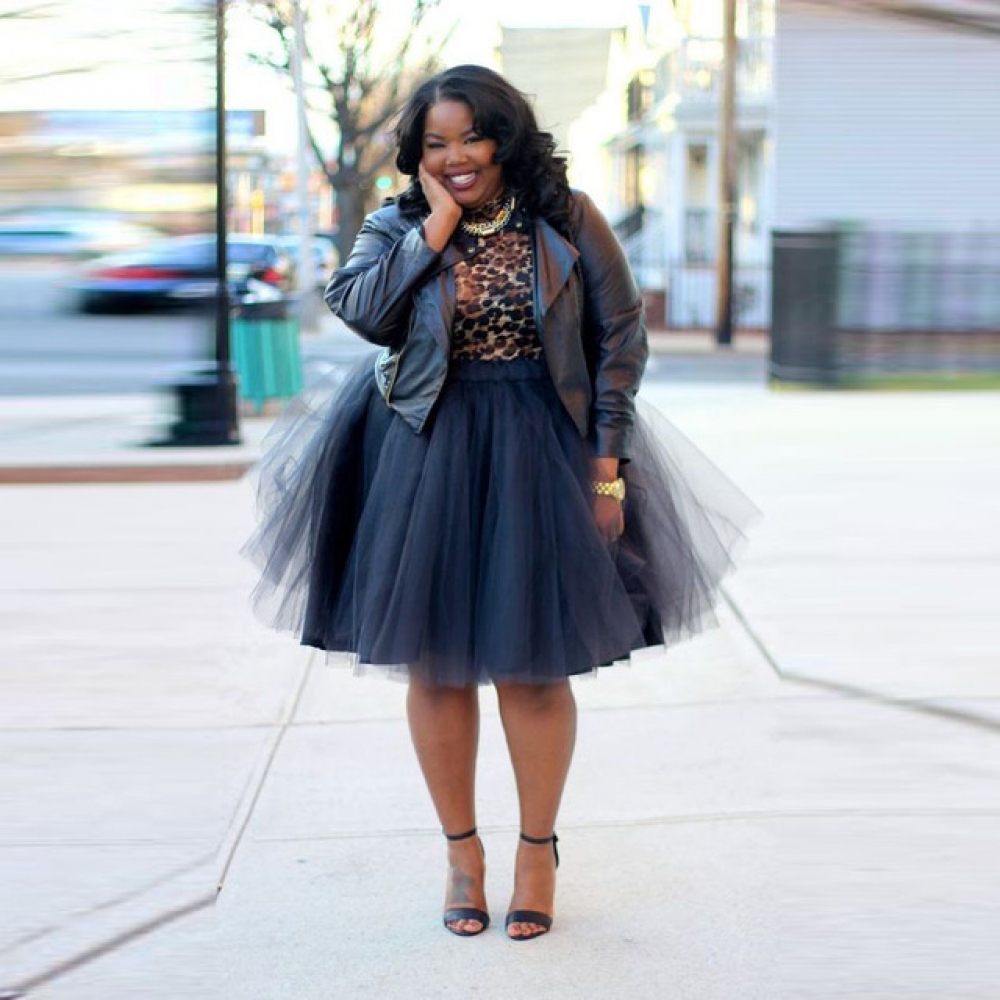 So are we still rocking the tutu skirt in 2021? Mine is a resounding YES!