The COVID-19 pandemic has affected all sectors across the globe economically and socially, including the media. Legacy media houses, especially, have been forced to review how they interact with their audiences and the ways in which they gather news.
The Digital News Report 2020 by Reuters Institute gives insights into the extents to which people value and trust local news, the mediums they use to access information, and the future of news consumption. Kenya and South Africa are the only two African markets that were covered in the report.
Kenya is perceived to have a more trusting audience, with 50% of the respondents saying they trust most news most of the time. KTN News, Citizen TV, NTV, Daily Nation and The Standard are the top five most trusted brands. The public broadcaster, KBC, is trusted less, while tabloid newspapers are least trusted, according to the survey. Seventy-four per cent of people rely on TV for news while 47% rely on print.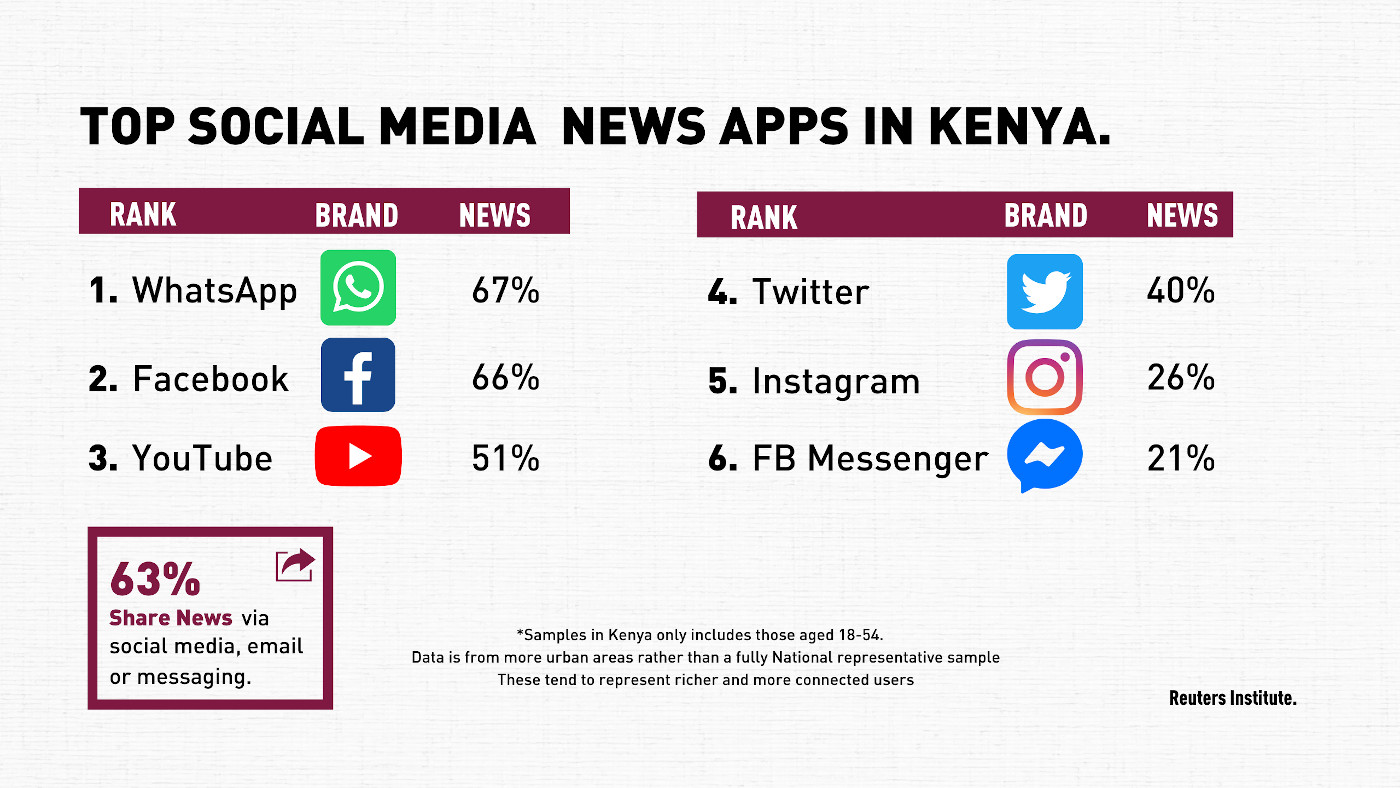 Ninety per cent of people get their news from online sources, including social media. Kenya has an internet penetration of 87%, which is considerably higher than South Africa's (55%).
Sixty-three per cent of people share content via social media, email or messaging, with WhatsApp being the most preferred medium (67%), followed by Facebook 66% and YouTube (51%). The vast majority of respondents said they use smartphones to access news, and 39% of the Kenyans who took part in the survey said that they paid for digital news, with the biggest bracket being between the age of 35 and 44.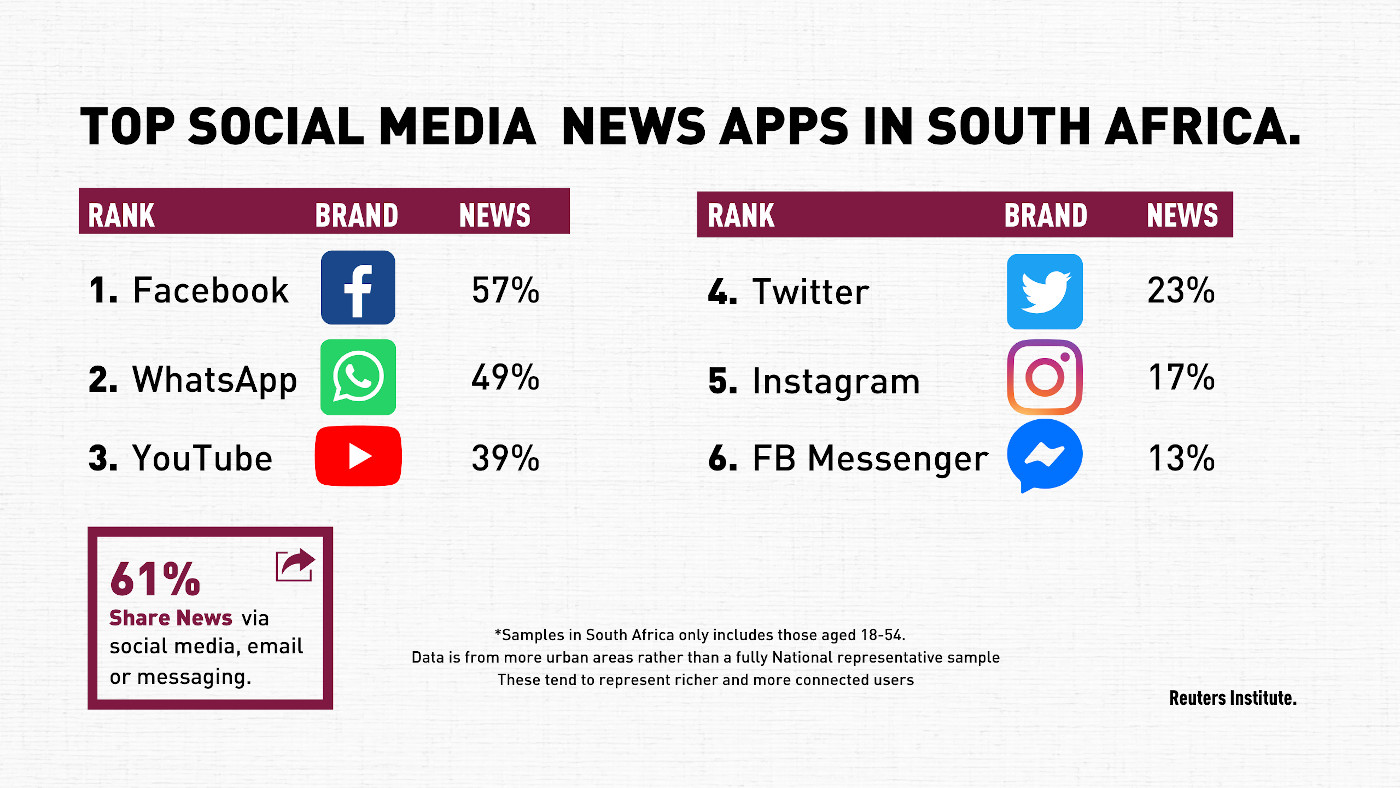 As of April 2020, trust in the media's coverage of COVID-19 was relatively high in all countries, at a similar level with national governments and significantly higher than individual politicians. Media trust was more than twice the level for social networks, video platforms, or messaging services when it came to information about COVID-19. However, trust levels have fallen almost as quickly as the media has stepped up its criticism of the government and official handling of the pandemic.
"Divided societies seem to trust the media less, not necessarily because the journalism is worse, but because people are generally dissatisfied with institutions in their countries, and because news outlets often carry more views that people disagree with", says Nic Newman, the lead author.
Globally, there is a huge concern about the spread of misinformation. Even before the peak of the pandemic, more than half of the global sample (56%) said they were concerned about what is true or false on the internet. This is especially high in countries where there is a large use of social media, such as Kenya.
Most respondents (29%) cited Facebook as being of particular concern to them over the spread of false information, followed by YouTube (6%) and Twitter (5%). However, in some countries, people say they are more concerned about closed messaging apps like WhatsApp, where false information tends to be less visible and can be harder to counter because of privacy and encryption protocols.
According to the report, the use of online and social media substantially increased in most countries. WhatsApp saw the biggest growth in general, with increases of around ten percentage points in some countries.
Domestic politicians are the most frequently named source of false and misleading information online (40%), followed by political activists (14%), journalists (13%), ordinary people (13%), and foreign governments (10%).
The authors of the report predict that the COVID-19 disruption is likely to hit local news providers hardest, given their continuing dependence on both print and digital advertising. Commercial local newspapers, in particular, are a key component of democracy in many countries, employing the majority of journalists, highlighting local issues, and holding politicians to account.
However, publishers are increasingly recognising that long-term survival is likely to involve stronger and deeper connections with audiences online. This has led to the rise of podcasts, which is a format that many media houses are using to increase engagement and loyalty.