On 4 February 2021, Michael Ogada Olunga will be the second Kenyan to play at the FIFA World Club Cup. This is after his January 2021 move to the Qatari based Al Duhail, the cup hosts. Al Duhail secured a place in the competition courtesy of winning the host country's 2019/2020 Qatar Stars League. The only other Kenyan to have played in the FIFA World Club Cup is McDonald Mariga, who at the time played under the tutelage of Jose Mourinho at Italian powerhouse FC Internazionale Milano.
A competition pitting winners of the 6 continental confederations against each other – UEFA Champions League (Europe), the AFC Champions League (Asia), the CAF Champions League (Africa), the CONCACAF Champions League (North America), the Copa Libertadores (South America), and the OFC Champions League (Oceania) – the FIFA World Club Cup is football club's dream destination.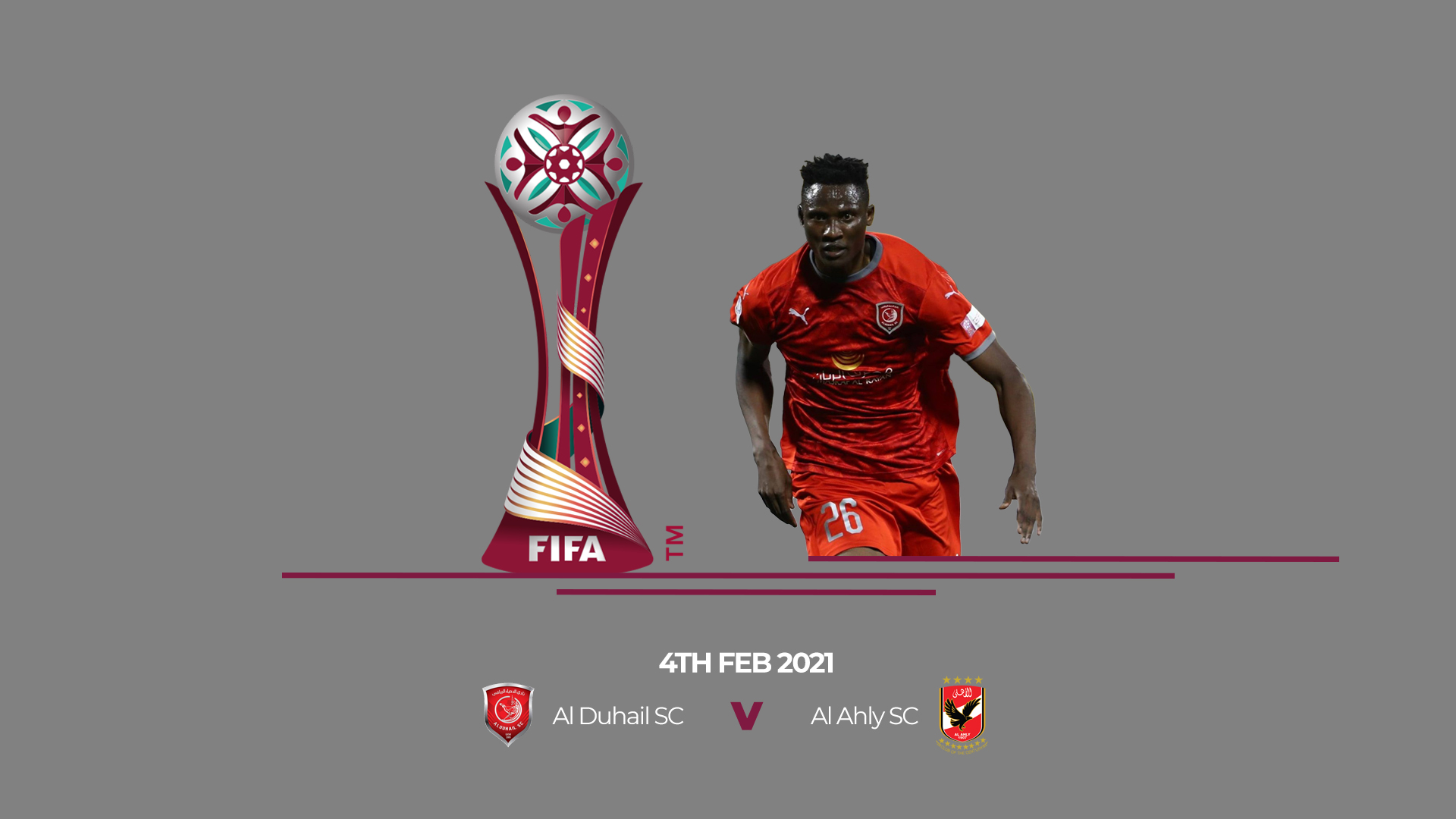 As a courtesy, the host nation's league champions are usually allowed a slot in the competition. This is how Al Duhail earned their spot. OFC's representatives Auckland City withdrew from the tournament due to COVID-19 and related quarantine measures required by New Zealand authorities. This has left six clubs in play.
Olunga's football journey started at Nairobi's Liberty Sports Academy. His exceptional goal-scoring prowess made it possible for his sports academy side to finish the season unbeaten – the invincibles. This earned the team promotion to the Nairobi Provincial League, where Olunga made headlines having scored seven goals in a single match.
After that season, there were media reports that Olunga was attending trials in France. He would later get signed by Kenyan Premier League side Tusker FC on a one-year loan deal from Liberty Sports Academy on 19 December 2012. Liberty, whose proprietor is former Harambee Stars head coach Jacob Ghost Mulee, is touted as Kenya's leading training entity for young football talent.
After finishing the 2013 season with two goals for Tusker, Olunga was loaned to Kenya Premier League side Thika United for a year. Thereafter, Olunga joined Gor Mahia FC at the start of the 2015 season. Gor had just lost their best striker, Daniel Sserunkuma alias Muzenyi to Simba FC in Tanzania. Sserunkuma was the highest goal scorer in the 2014 Kenyan Premier League season with 16 goals. Olunga had big shoes to fill.
Olunga didn't disappoint. He finished as Gor's top scorer, having the team record their 15th league title without losing a match. Making 27 appearances with Gor, Olunga scored an impressive 19 goals, coming out on top of the pack as the best player in the Kenyan league.
While speaking to a local news platform a year later, Olunga disclosed that his dream was playing for Spain's Real Madrid, a dream he holds to date. He heartily remarked:
"Nikuingia tu pale, tung'ang'anie number sisi wote, nikipata opportunity pia mimi nifanye my best.
After one and a half months of intense training with Swedish side Djurgårdens IF, Olunga was signed on a four-year contract. This signing was different. Unlike his previous teams, he had not been headhunted. Instead, he had signed up for the team's pre-season training camp trials. In Djurgårdens IF, a club in the highest Swedish tier – Allsvenskan – Olunga scored his first brace on 8 August 2016 against IFK Göteborg. In a 3-1 win, he was named man of the match after that stellar performance.
In a game against Gefle, Olunga secured a win for Djurgårdens IF with a volley in the 86th minute. He was nominated as Newcomer of the Year – nominations made by a jury of Allsvenskan League coaches, Swedish journalists, as well as the coaches of the Swedish national teams. Unfortunately, the award went to Real Sociedad's forward, Alexander Isak, a Swedish national. In the last games of the Allsvenskan League, Olunga bagged 12 goals in 12 games, placing him at number 5 in the Allsvenskan League top scorer table.
After a successful season at the Allsvenskan League, the towering striker caught the attention of many. Noises in the Kenya press had it that Djurgårdens IF had turned down offers on Olunga from La Liga's FC Betis, Belgian champions Club Brugge and Swedish champions Malmö FF. As it turned out all this was mere speculation, since eventually Olunga joined the Chinese club Guizhou Zhicheng In 2017, a club playing in the China League One division of the Chinese Football Association (CFA). However, Olunga found his way ito La Liga later on when he was loaned out for one year by Guizhou Zhicheng to Girona FC.
During his La Liga debut on 13 January 2018, Olunga came in as a substitute for Girona against Las Palmas. He needed only twenty-two minutes to score a hat trick. Pulling this off in a foreign country on his first game in a highly competitive league was no mean feat. Olunga became the first Kenyan and Girona player to score a hat-trick in Laliga Santander.
Eight months later, Olunga joined the Japanese club Kashiwa Reysol, which plays in the J1 League, the top tier of football in the country. Reysol signed Olunga from Guizhou Zhicheng after a season-long loan stint with Girona FC.
In one of his most memorable plays at Kashiwa, on 24 November 2019 Olunga scored eight goals in a 13-1 victory over Kyoto Sanga. His other outstanding performance was during Kashiwa's game against Vegalta Sendai, played in July 2020, where Olunga scored a hat-trick.
That season, Olunga scored a total of 27 league goals for Kashiwa. The club finished the J2 season as champions and won promotion to the first division of the J1 League. Currently sponsored by Meiji Yasuda Life, a life insurance company, the League is officially known as the Meiji Yasuda J1 League.
While most people would want to forget 2020, that isn't the case for Olunga. As the pandemic ravaged, Olunga was named the most valuable player (MVP) in Japan's J League. He was a top scorer and was named as part of the best 11 team of the season.
Soon, it was time for Olunga to move clubs and countries. And so in January 2021, the man known as Engineer (Olunga studied geospatial engineering at Technical University of Kenya) signed a three-and-half year contract with Al-Duhail, which holds the record of being the first team in Qatar to win the first division title on its 2010/2011 debut.
As the FIFA Club World Cup commences, Olunga's fans will be keen on game three on the fixture, Al Duhail's first match of the tournament. The Qatari side is scheduled to play Egyptian powerhouse Al Ahly, who are the reigning CAF champions. In the event Al Duhail wins against Al Ahly, Olunga and the Qatari side will face off with the Bavarians, Bayern Munich FC, undoubtedly one of the best clubs in the world.
Whether Al Duhail stands a chance against Al Ahly and later on (if successful) Bayern Munich is a matter of conjecture.
But whoever emerges victorious in the FIFA Club World Cup enjoys the bragging rights of being the best football club in the world. Could Olunga and the Qataris pull a surprise? No matter Al Duhail's chances at winning, it is safe to say that with all his notable achievements so far, Michael Olunga is yet again at the cusp of something even greater.